Little Chick started eating again at dinner time! After ten days of nothing but nausea, vomiting, endless bathroom runs day and all throughout each night on hardly any food or drink this Mama Hen is ecstatic! When I heard Little Chick say that she would like some brown rice I could not keep my happiness from bursting out! I started dancing and Little Chick danced too! If you could have seen my daughter the past week it would have broken your heart. She just kept slumping down on the floor everywhere in the house. Then she would lay on the couch and then get up and lie down on the floor again. I spent the days trying to get what little fluids in she would take and food was almost nothing. I am happy to say she ate some brown rice tonight and some broth! Yahoooooooooooooooo! Thank You Dear God!
I really appreciate all of your warm well wishes!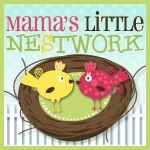 Visit a fabulous feature in the Nestwork today!
Just click on the button!