"I have learned that the smile on a child is

contagious and can brighten up any ones day.)
I while back I did a post based on the poem in my Mama Hen's Inspirations called

I Have Learned

. I love that poem because it really causes me to reflect on many things. Our lives are a journey filled with struggles, giggles, pain, love, and sadly, loss. This poem always leaves me writing my own "I have learned" scenarios in my head. Here are a few:
I have learned that as much as we try to hold on to time it is cruising by. So make it exciting and try not to sweat the small stuff.
I have learned that as much as I flip out at bad drivers, they don't know I am flipping out and continue on, yet I am left stressed. So try your best (and I try) to "let it go".
I have learned that my yearning for a child for so many years did not make it happen. God did. It is all in His time.
I have learned that true love is a gift. So if you are blessed to have it then cherish it, nurture it, and tend to it to make it flourish. And never take it for granted.
I have learned that the death of a very special person can come at any time with no fore warning. So always let the people you know that you love them as often as you can!
I have learned that no matter how many times I watch a sunset, I want to see it over and over again.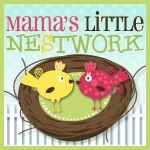 Come and join Mama's Little Nestwork!