"As we express our gratitude, we must never forget that the
highest appreciation is not to utter words, but to live by them."
Thanksgiving Thursday always makes me happy. As I sit here writing this post I am already decompressing and "taking a moment" to purposely "reflect". I have so much to soak in and say thank you for. Here are my five:
1.) Little Chick and my loving family.
2.) The ability to give Little Chick an amazing birthday party at a fun place with lots of friends and goodies!
3.) For the strength I continually feel to pick myself up when things seem difficult.
4.) For a cool summer breeze on a hot summer night.
5.) Thank you to all my beautiful bloggy friends who made the first two days of Mama's Little Nestwork so exciting and successful!
More people giving thanks:

Our Happy Home

&
Jinnia Low.Com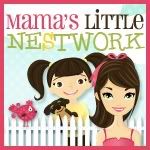 Come and join Mama's Little Nestwork!
A network of amazing bloggers!